亚洲勒芒系列赛快速成长,覆盖受众创新高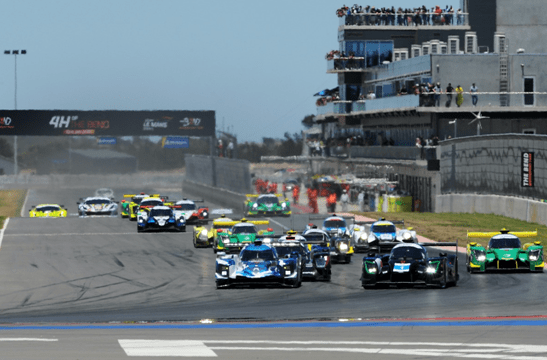 ​图供稿:主办方
The Asian Le Mans Series goes from strength to strength with significant audience growth, big returns for partners, and attracts more Asian teams and drivers.
亚洲勒芒系列赛正不断变得更好更强,观众人数大幅增长,合作伙伴获得丰厚影响力回报,赛事也吸引到更多的亚洲车队和车手报名参赛。
The 2019/ 2020 season delivered record exposure for the Asian Le Mans Series and its partners. The growth in the audience was significant for both the live streams and highlights programmes with over 7 million viewers recorded during the season. This cumulative audience grew by 25% from the 2018/ 2019 season and equates to, on average, 1.8 million viewers for each of the four rounds of the 2019/2020 season.
2019/2020赛季亚洲勒芒及合作伙伴的曝光度大幅增加。直播和集锦视频的观众达到了700万人次,对比2018/2019赛季取得25%的增长,平均每站赛事有180万人次观看。
The Series achieved a live stream audience of 5 million viewers around the world. In addition 2.19 million people watched the 700 hours of Series highlights broadcast to 167 countries, on 77 channels.
亚洲勒芒的全球直播观众人数达到了500万。另有219万人次观看了在全球167个国家和地区,77个电视频道,总长度达700小时的各个赛事集锦。
Making the live stream available for free and in full around the world continues to be a priority for the Asian Le Mans Series and makes it one of the most accessible race series globally. The Series' TV package alone is broadcast to 85% of the world's countries.
亚洲勒芒致力于将完整且免费的直播节目提供给全球观众,并使其成为全球最便捷观看的汽车运动赛事之一。亚洲勒芒系列赛的播出落地覆盖了全球85%的国家和地区。
Social Media Engagement:
The Asian Le Mans Series continues to deliver a more engaging social media presence. The Series saw significant growth in reach on its social media platforms throughout the season. The results included the Series hashtag (#AsianLeMans) achieving 44.2 million impressions and reaching 6.2 million users on twitter alone.
社交媒体互动:
亚洲勒芒系列赛持续地在社交媒体进行内容展示和互动。亚洲勒芒在各社交媒体平台的热度在本赛季有大幅增加。仅在推特平台,亚洲勒芒(#AsianLeMans)标签的曝光量超过4420万次,到达超过620万用户。
Media coverage:
The Series attracted interest from media from around the world with an average of 102 accredited media attending each round. This helped to generate thousands of articles, achieving 7,535 million digital impressions.
媒体覆盖:
亚洲勒芒吸引了全球超过102家媒体进行现场采访。这些媒体发出的上千篇报道,实现了全球超过75亿次的在线曝光流量。
Extensive coverage in China:
In China, there was a live streaming audience of 3.95 million watching the races and a TV audience of 300,000. For the 2019 / 2020 season, in addition to the live and highlights coverage of the Series in China, there was also segments on Maxspeed (a motorsport focused Chinese TV Series), and a stand-alone programme called Asian Le Mans Talk.
中国区的高频覆盖
亚洲勒芒系列赛在中国区域在线直播有395万人次观看,CCTV5报道的受众超过30万。在2019/2020赛季,除了直播和集锦以及新闻的播出,还包括一档专注于汽车运动的视频节目《MaxSpeed周才鸿赛车编辑室》及其专为亚洲勒芒制作的栏目《亚洲勒芒说 Asian Le Mans Talk》。
Chinese Social Media Activation:
Launched just before the start of the season, the Series new Chinese TikTok campaign generated over a million views during the season and Weibo activations also attracted almost a million views.
中国社交媒体互动:
在赛季即将开始前时发布的Tiktok(抖音)专题内容,在全赛季吸引了超过100万人次观看。新浪微博发布的内容也有接近100万人次的到达。
Media and influencer engagement in China:
The Shanghai round was attended by 88 accredited Chinese media from both lifestyle and motorsport publications. This activity generated approximately 100 articles, attracting around 10 million views. The Asian Le Mans Series has also engaged a number of other influencers including a new athletic footwear brand (KIKS) to reach a broader audience.
中国的媒体及意见领袖的互动
上海站的比赛有88家中国媒体到场采访,包括生活时尚类和汽车运动类媒体。媒体记者们发布了有近100篇文章,吸引了超过1000万人次的阅读量。亚洲勒芒系列赛还通过一批意见领袖,包括新兴时尚运动品牌(KIKS)去触及更多受众。
Exposure for partners:
All of this combined to deliver the Asian Le Mans Series partners, teams and drivers with record return on their investment. On average the QI value offered to Series partners more than doubled and in some cases, it tripled from what was already a strong performance in 2018/ 2019.
合作伙伴的曝光度:
上述的媒体曝光使所有亚洲勒芒系列赛的合作伙伴、车队和车手获得了前所未有的投资回报。对比已经取得不错成绩的2018/2019赛季,当赛季的平均回报率达到了双倍,某些类目为三倍。
Growth in Asian teams and drivers:
The Asian Le Mans Series is committed to becoming the reference endurance racing series in Asia and is the perfect springboard for Asian teams and drivers to rise up the ACO racing ladder to the 24 Hours of Le Mans.
亚洲车队和车手的成长:
亚洲勒芒系列赛致力于打造亚洲区域标杆性的耐力赛事,并且成为亚洲车队和车手在ACO赛事体系中提升并最终达到勒芒24小时耐力赛的阶梯。
During the 2019/ 2020 season, 97 drivers from 31 different nationalities competed in at least one race, with 44 of those coming from the Australasian region. This included 11 drivers from Japan.
The Series also attracted the first ever Japanese LMP2 team, K2 Uchino Racing who scored a podium finish in their debut prototype season. The team was one of four Japanese teams racing in the Series.
20 teams entered at least one race this season, with half of them coming from Asian countries.
在2019/2020赛季中,来自31个国家和地区的97位车手参与了一场以上的比赛,其中有44位车手来自亚洲/澳大利亚地区,亚洲区域中,有11位是日本车手。
亚洲勒芒还首次吸引到了日本的LMP2车队——K2 Uchino Racing,他们在两项的首个赛季就登上了前三名的领奖台。该车队也是亚洲勒芒四支日本车队的其中一支。
有20支车队参加了最少一场比赛,其中一半是亚洲国家的车队。
Pierre Fillon, President of the Automobile Club de l'Ouest:
"The Asian Le Mans Series continues to go from strength to strength. I was fortunate to see this first-hand this season in Australia and in Thailand. The Asian Le Mans Series continues to form an important step in the ACOs endurance racing ladder. The growing interest from local audiences, as well as the new Asian teams and drivers the Series is attracting is truly exciting."
皮埃尔·菲永 西方汽车俱乐部(ACO)主席
"亚洲勒芒系列赛正不断变得更好更强,我非常幸运能够亲身参与在澳大利亚和泰国的赛事。亚洲勒芒系列赛一直是ACO耐力赛体系的重要上升阶梯。本地观众的持续关注,亚洲车队和车手的积极参与都非常令人兴奋。"
Cyrille Taesch Wahlen, Managing Director of the Asian Le Mans Series:
"The success of the 2019 / 2020 Asian Le Mans Series is a credit to everyone involved. From the operational, technical and support teams, Series partners, TV production crew, and of course the teams and drivers that race with us – this is a shared success!
"I am proud of what we have achieved so far, and I am confident that together we will be able to overcome the new challenges we are facing as we head to our new Season. We will continue to deliver a world class product both on track, and through our broadcast programme, and will seek to continually offer exceptional results for all of our partners."
西里尔·塔什·瓦伦 亚洲勒芒系列赛董事总经理
"亚洲勒芒系列赛2019/2020赛季的成功有赖于各位同仁的参与,包括运营、技术和支持团队,合作伙伴,摄影摄像团队,当然也包括和我们一同比赛的车队和车手。这是属于每个人的成功"
"我对我们目前取得的成绩感到自豪,我也坚信我们将克服新赛季面临的各项困难。无论是在赛道上,在节目中,还是合作伙伴关心的指标和数字,我们将坚持为大家奉献世界级的赛事。"
Just after the final round of the 2019 /2020 season we lost a highly valued member of our team. Gary Khor contributed greatly to the success of the Series, ensuring the events ran smoothly whilst always keeping a smile on his face. Thank you Gary - we miss you greatly.
在2019/2020赛季圆满落幕之时,我们失去了团队中一位重要的伙伴。 Gary Khor为赛事的运转奉献良多,笑容一直挂在他的脸上。谢谢你Gary——我们怀念你。
NOTES TO MEDIA:
Studied periods for analysis:
TV and internet broadcast coverage, and media monitoring: 16 November 2019 – 31 March 2020.
Evaluation undertaken by Nielsen Sports.
媒体数据备注:
研究时段:
2019年11月16日至2020年3月31日,包括电视和互联网广播报道以及媒体监控。
来自尼尔森体育Nielsen Sports。